~ Current Projects ~
December 2014 • Seattle

Salish Sea Early Music Festival
January - June 2015 • Pacific Northwest

Black Hawk Chamber Music Festival
August 2015 • Davenport and Iowa City, Iowa and Rock Island, Illinois
Capitol Hill Chamber Music Festival
July 2015 • Washington, DC
On the Survey by Stojan Brezocnik

Slovene Composers

• Merry Snowflakes are Whirling in the Air (audio 2MB mp3)

from Pieces for Youth by Brina Jez

• Seven Golden Feathers (I. audio 1.5MB / V. audio 1.8MB both mp3)

by Brina Jez (written for Jeffrey Cohan and violinist Branko Brezavscek in 2005; world premiere performance recorded by National Radio of Slovenia)

• First Field: White Spider's Net from Blue Wind by Brina Jez (audio 3MB)

with harpist Nicoletta Sanzin, cellist Milan Vrsajkov and flutist Mateh Grahek

recorded by National Radio of Slovenia in November, 2005

(written for J. Cohan, V. Muzzolini, A. Yang and and P. Ryker in 2005)

Northwest Concerti

• William O. Smith's 2000: Concerto for Flute

(audio 1.8MB mp3)

• Roupen Shakarian's Flute Concerto

• Robert Kechley's Flute Concerto

(audio 2.1MB mp3)

• Huntley Beyer's Toot Sweet

for Flute and Orchestra

Robert Kechley

The Russian Guitar and the Romantic Flute
with Oleg Timofeyev, Russian 7-string guitar

• Louis Franηois Drouet's variations on God Save


the Queen (audio 4.1MB mp3)

8-keyed flute made in 1820 in London by George Rudall













Simphonie Nouvelle
baroque/renaissance traverso with lutenist Stephen Stubbs
and viola da gambist Susie Napper or Tina Chancey
• Bach C Major encore (audio 493KB mp3)
• Turlough Carolan's Brigit Cruise (audio 873KB mp3)
please see "German Reviews" and search for "Stubbs"
Cohan-Shangrow Duo
George Shangrow, harpsichord/piano
• The complete sonatas and partita for flute and harpsichord by J.S. Bach
• The complete sonatas for transverse flute by G.F. Handel
• Fireworks: Music by Northwest Composers
SansSouci

Chamber orchestra featuring Jeffrey Cohan,


the Patterson Duo (Ronald and Roxanna Patterson)


and cellist Douglas Davis


The 5th Brandenburg Concerto by J.S. Bach,


flute concerti by Vivaldi, Quantz, Frederick the Great & C.P.E. Bach and chamber music including Huntley Beyer's "The Happy Table" for flute, harpsichord and strings.

Solo Flute Music from Six Centuries
• The Twelve Fantasies by G.Ph. Telemann
• Jakob Van Eyck in the Rose Garden (see Concert Spirituel)
• Solo Flutes from Six Centuries
J.S. Bach's Allemande from Partita in A Minor (audio 1.5MB mp3)
Joel Durand's Par le feu recueilli (audio recorded Dec 10, 2006 4.1MB mp3)
Emerald City Flute Consort (renaissance flutes)
John Baldwyn's A Browninge (audio 1.46MB mp3)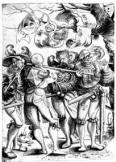 CONTACT • revised October 2014